Timing Chain
A timing chain is a metal chain, as opposed to the timing belt which is made of rubber. The chain is located inside of the engine. The chain needs to be lubricated by the oil in the engine so everything runs together. Every time you use the engine, the chain will be used. It connects the crankshaft to the camshaft.
Do you need to replace ? The chain runs inside the engine. The chain needs to be lubricated by the engine oil. A timing belt typically needs to be replaced between 40,000 and 100,000 miles depending on the vehicle. A timing chain doesn't need to be replaced unless there is a problem with it.
Can it stretch?  The c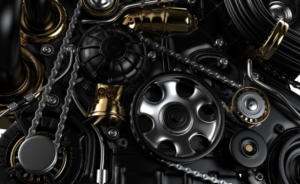 hain is located in the front of the motor and is attached to a set of gears and pulleys that power multiple mechanical components, including the crankshaft and camshaft. The timing chain can start to stretch and wear over time. This stretching will cause the engine's timing to be inaccurate and cause a few warning signs.
What happens when it breaks ? If the timing belt snaps, they run into each other, causing bent valves (most common), cylinder head or camshaft damage, and possibly piston and cylinder wall damage. While it is possible that no damage could occur from a snapped belt on an interference engine, such a case is unlikely.
We have branches located throughout Dublin : Baldoyle, Blanchardstown, Drumcondra, Finglas, Fonthill, Kimmage, Kylemore, Stillorgan, Swords, Fonthill.