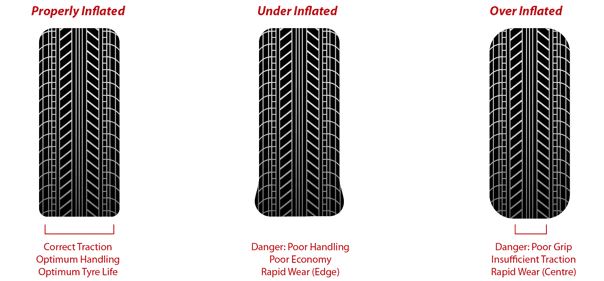 Why you should check your tyre pressure regularly
Correct tyre pressure is vital to your safety on the road. An under-inflated tyre can affect handling and grip, potentially causing your car to drive in an unpredictable manner.
Low tyre pressure can have a negative impact on your car. Some of the effects can be longer braking distance on wet surface, weaker resistance to aquaplaning, bad handling over- and understeering, more difficult parking with your car (harder movement due to larger rolling resistance), risk of sudden tyre brake while driving, faster wear, irregular and increased wear.
Likewise, too high tyre pressure may cause worse grip, may also lower driving comfort (lower bump absorption, higher noise level inside the car), faster wear of the car suspensions elements (due to lower bump absorption), more use of the central part of the tyre tread and higher tyre damage possibility which can result from falling into a pothole or hitting the curb. The only advantage resulting from higher tyre pressure may be the stability in the corners and lower fuel consumption (due to lower rolling resistance).
By keeping your tyres at their optimum pressure, your running costs are also reduced. Under-inflated tyres require a bigger force to make them turn, so your car uses more fuel. Additionally, tyres which are not set to their correct pressure wear out more quickly.
So, to benefit from lower fuel bills, longer tyre life, increased safety and reduced CO2 emissions, make sure you check your tyre pressures at least once a month and before a long journey.
Tyre Pressure Monitoring Systems
Tyre Pressure Monitoring Systems (TPMS) were introduced to improve road safety by letting a driver know when their car is running on incorrectly inflated tyres. However, figures from the UK's MoT test – the equivalent of the NCT in Ireland – suggest that many drivers are choosing to ignore the warning systems, and continue to drive on dangerously under-inflated or damaged tyres.
TyreSafe, the UK charity dedicated to raising awareness of the importance of correct tyre maintenance and the dangers of defective and illegal tyres, has highlighted skyrocketing failure rates caused by defects with vehicles' Tyre Pressure Monitoring Systems. In the UK more than 23,000 vehicles required a retest following identification of TPMS issues in 2016 compared with a little over 7000 in 2015 – an enormous rise of 212%.
TyreSafe is calling on motorists to put tyre safety higher up their list of driving priorities and check their tyres and TPMS are in roadworthy condition
While TPMS helps to reduce the number of tyre-related incidents, drivers should also carry out regular visual checks on their tyres on a monthly basis and before long.
If you need new tyres or aren't sure if you do, why not drop into one of our branches around Dublin and one of our staff will check your tyres for free and advise you should you need new tyres. Or use our online quote form to get a tyre quote today